View Canby.com Post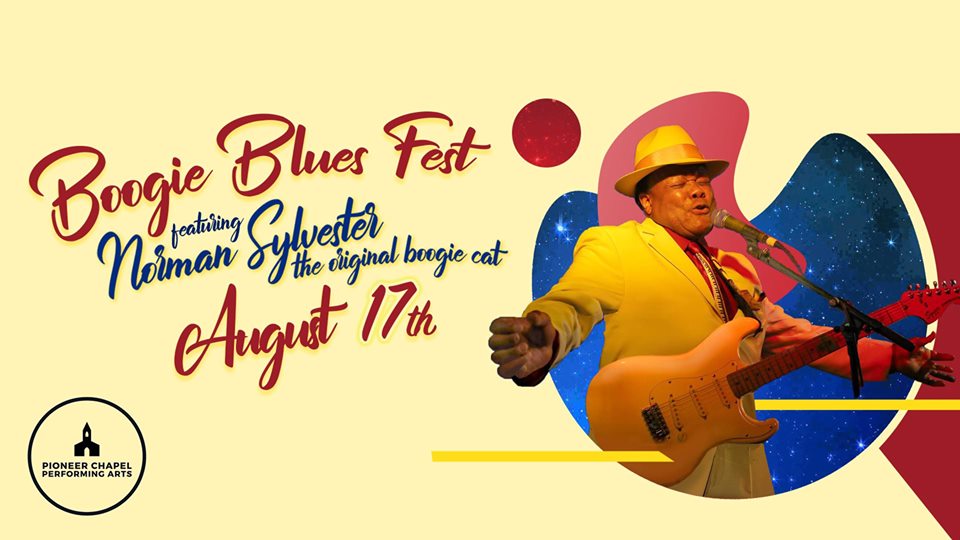 Boogie Blues Fest featuring Norman Sylvester at Canby Pioneer Chapel | August 17th
Events | 17 August 2019
Posted by Mel Tarter in Community News.
We're bringing the blues to Canby Pioneer Chapel Performing Arts' outdoor stage! We're proud to present Boogie Blues Fest with three renowned blues acts:

The Norman Sylvester Band:
Norman "Boogie Cat" Sylvester, an Oregon Music Hall of Fame inductee, will be gracing our outdoor stage with his esteemed band! The Norman Sylvester Band has been a keystone of the Portland music scene since they came together in 1985! They've shared a stage with BB King, Buddy Guy, James Cotton, Junior Wells, Otis Clay, Tower of Power, Five Blind Boys of Alabama, Peter Frampton and many more.

Papa Smoke:
Papa Smoke features stellar vocals and tight harmonies on your favorite Classic Rock, Country, Southern Rock and Blues tunes. Collectively touring the Northwest for over 35 years, "Papa Smoke" has perfected the art of musical performance and engaging an audience.

Michael Manning and the ForestJack Band:
Michael Manning, has been performing around the northwest for over 40 years. Michael's father Jack Manning was an A&R man at Capitol Records. In the early sixties his father would host parties with the top talent of the time including Nat King Cole, Ned Miller, Al Martino, Buck Owens, Elvis Presley and more. Michael didn't know who these cats were at the time but they would leave a lasting impression on him that would manifest years later.

FOB Taproom will be bringing their passion for craft beer to the chapel! More vendors to be announced!

www.pioneerchapel.net/events-1/boogie-blues-fest-featuring-norman-sylvester
---